PouchDB or What to Do When the "Internet Is Stable"
October 21, 11:50
Room II
In the report I'm going to tell you about a database written in JavaScript – PouchDB, I will try to provide a broad overview of the ways the database functions. I will delve into the conditions under which it will operate and for which purposes it can be used. Furthermore, I will provide examples of working with the base's features. This presentation is for introductory purposes and is intended for listeners who have not yet been acquainted with this product.
Zurab Belyi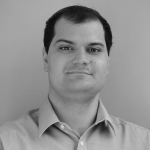 Senior software engineer, Reksoft
Graduated from the Faculty of Computer Science and Mathematics Faculty of Voronezh State University (VSU),
More than 7 years of experience in the IT industry and software development. Great experience in designing, planning and developing client-server applications, including web and mobile applications.
I'm fond of scale modeling, I like to travel and ride a bicycle.