Implementing, intruding and adapting ROI Calculator for Automated testing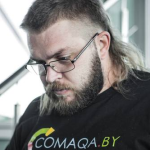 Anton Semenchenko, CoreHard; COMAQA; DPI.Solutions; EPAM Systems
October 20, 2017, 11:55–13:45
In Russian only
Attendance is free for the conference participants
We're going to talk about successful use of ROI Calculator for QA Automation, formulate the algorithm of selling the automation to the external customer. Algorithm consists of 5 steps. 4 documents are input parameters, 5 documents are output.
About instructor
Anton Semenchenko
Co-founder, CoreHard
Founder, COMAQA
CSO, co-founder, DPI.Solutions
Manager, EPAM Systems
Founder Activist of QA Automation COMAQA.by and low level Development C C++ CoreHard.by communities, co-founder of DPI.Solutions, manager at EPAM Systems. More than 15 years of experience in IT. Specializes in low-level development, QA automation, management, trainings, and sales.