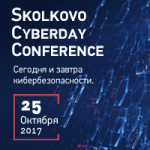 Skolkovo Cyberday
The Skolkovo Cyberday Conference 2017 is devoted to the topical issues of the development of information security technologies.
The purpose of the Skolkovo Cyberday Conference 2017 is to identify new technological approaches and solutions designed to provide information security in the context of rapid IT integration into key business processes of companies, to find market niches for the emergence of new solutions and companies.
The main themes of the conference of the year:
Artificial intelligence and the future of cybersecurity;
The role of social, behavioral and innovative solutions in cybersecurity;
Key problems of cybersecurity of cloud services;
Key problems of cybersecurity of the banking industry.
The conference will also include the following events:
Success stories of Skolkovo residents.
Reality and practice of Information Security in the Automatic Process Control System.
Exhibition of innovative projects of the technological companies.
Cybersecurity School.