Business analysis: from vague concepts to implementation and further development of IT-solution
October 20, 10:55
Room I
Classic business analysis practices had been developed at the time when business would had specified requirements for IT. And the only business analyst's objective was to formulate them for IT in clear language. It was sufficient to meet these requirements for the success of a project.
Currently, business does not have enough competence in IT for autonomous designing. At the early phases of the project It is important to involve cross-subject team in which business analyst working on ideas and designs the transformation in the close conjunction with stakeholders of business, technologists, industry experts. Stakeholders' satisfaction has become the criterion of success for the project instead of formal fulfillment of the requirements, that's why business analyst actively participates in all stages of the changes. Actually business analyst core competencies are not only system thinking and the ability to design documents and models, but also the ability to establish effective communications, to facilitate collective search for solutions, to work with vague ideas and needs.
The report is about the methods and practices of business analyst on different phases of the IT-solutions' lifecycle, the qualities and competencies BA-specialists enabling them to meet new challenges.
Maxim Tsepkov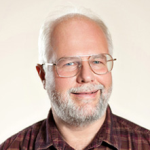 Principal Solution Architect, CUSTIS