Develop IoT apps using the Node-RED visual tool
October 20, 11:55
Room II
Attendees will learn about creating IoT apps using cloud services, a cloud platform and the flow-based programming tool Node-RED. I will give a technical overview of the different developing tools, I will share my experience with Industry related examples I worked on and I will give a live demo of a basic IoT app starting from scratch. Participants will see how easy and quick is it to develop IoT apps with Node-RED to build a prototype for example. We will also have an overview of a comparison with other existing platforms to develop IoT apps.
Target audience: architects/developers but not many skills required. Anyone can attend. Examples will be in javascript.
Clemence Lebrun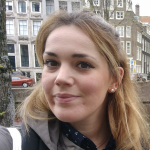 Developer Advocate Europe, IBM
With a developer background and a software engineering master, Clemence is in charge of supporting developers (Students, Startups and Corporate developers) using new and innovative IBM technology such as the IBM Bluemix platform across Europe.
She is passionate about Internet of Things, Mobile & Web development, wearable technology and cognitive APIs.
Clemence likes to share her knowledge and also learn new technologies everyday through workshops, meetups, hackathons and developer conferences in Europe.