Distributed teams and virtual offices, 10 years ahead prediction
October 20, 13:15
Room III
With the boost of modern technologies current environment is rapidly changing. We`re heading towards borderless digital world and the same is applicable to the working environment. Current presentation is devoted to the overview of the transformation of the IT companies through the last 15 years and prediction for the next 10 years. It would be interesting to the management and professionals in charge of human resources and building modern and effective teams of high qualified professionals.
Roman Dimenko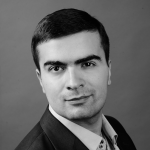 Principal DBA, Dell EMC
As an SQL Server DBA, developer and architect, I specialize in mission-critical data systems and business intelligence solutions using Microsoft SQL Server. Over the course of my career, I have served as an architect, developer, team leader, project manager, and consultant, always ensuring I was on top of industry best practices.
I'm honored to say SMEs bring me on to consult on their toughest projects because of my vast experience across industries, combined with an innate ability to cut costs and create corporate change. For companies without the internal resources to handle their most sensitive DBA needs, I'm proud to act as a true partner.