Enterprise class SQL Server monitoring in distributed production environments with high number of servers
October 21, 14:30
Room II
For those IT professionals who have to deal with SQL Server administration, maintenance and monitoring in mission critical environments on daily basis. Either accidential DBAs or professional DBAs looking for free standardized monitoring solutions.
Roman Dimenko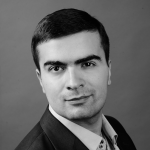 Principal DBA, Dell EMC
As an SQL Server DBA, developer and architect, I specialize in mission-critical data systems and business intelligence solutions using Microsoft SQL Server. Over the course of my career, I have served as an architect, developer, team leader, project manager, and consultant, always ensuring I was on top of industry best practices.
I'm honored to say SMEs bring me on to consult on their toughest projects because of my vast experience across industries, combined with an innate ability to cut costs and create corporate change. For companies without the internal resources to handle their most sensitive DBA needs, I'm proud to act as a true partner.