Hegel's Dialectics and Sedov law as a way of verifying IT trends with Automation testing examples
October 20, 14:45
Room I
Understanding of the future of the field – a unique advantage. The company and each employee wants to know what languages, tools, approaches will be on demand tomorrow, and which of them are evolutional "dead ends" and can solve tasks of today, but will be extinct like dinosaurs tomorrow. We all are urgently required to know the future of the IT field, in order to understand how exactly we should prioritize things, what fields should we invest our time, our energy and funds. Hegel' dialectics, Sedov's law of "hierarchical compensations", 5 attributes of complex systems by Grady Booch connected together have synergetic prediction effect. We are going to talk about the ways of using that tool for verifying IT trends, show examples, mostly Automation examples, analyze the results of strategic planning of Test Automation Department for that and next year (as a form of an example).
Anton Semenchenko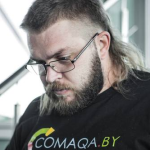 Co-founder, CoreHard
Founder, COMAQA
CSO, co-founder, DPI.Solutions
Manager, EPAM Systems
Founder Activist of QA Automation COMAQA.by and low level Development C C++ CoreHard.by communities, co-founder of DPI.Solutions, manager at EPAM Systems. More than 15 years of experience in IT. Specializes in low-level development, QA automation, management, trainings, and sales.