How Cossacks moved the code
October 20, 17:45
Room II
In the report, I'll talk about the experience and approaches for building a fully automated process for deploying a multi-component application. It includes end-to-end automatic versioning, building, storage, deployment, testing, storage and preliminary analysis of test results for all components as a whole.
Vladimir Trubnikov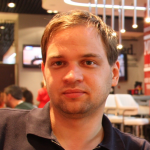 Principal Software Engineer, Dell EMC
7+ years of work in QA which includes 3+ years in DELLEMC. Specialized in automated tests development and DevOps tasks related to QA needs.