Why did we move to container infrastructure
October 21, 15:50
Room II
This talk will be about infrastructure. I will tell about legacy infrastructure in company. What it consist of? Which problems (technical and process) did we have with it? How they make development process difficult? And how we have fixed them.
Denis Yakovlev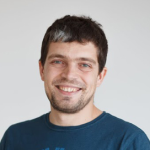 Infrastructure and Operations Team Leader, 2GIS
10 years work in Parallels – starts from QA engineer position, finishes on Team Lead of development team
3 years in 2GIS – Team Lead of infrastructure and operations team.