Improvement of hybrid solutions for the development of cross-platform mobile applications
October 21, 17:10
Room III
What is the hybrid architecture
Overview of current solutions, comparison with alternative solutions(non-hybrid).
Overview of problems in existing hybrid solutions
Transfer of server platforms to mobile device for recreate the familiar environment of web and full-stack developers
Ruby on Rails and Node.js run on mobile device – developers can make cross-platform native hybrid applications in absolutely the same environments with classic web applications with remote server's backend but int this case server is not remote and run on mobile device
Demonstration of development mobile applications with using of server technologies on mobile device – free and open source solution Rhomobile.
For experienced developers.
Dmitry Soldatenkov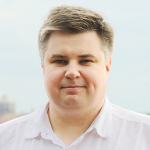 CTO, Tau Technologies
In school I understand – programming is my main interest.
I worked in one of the first Russian companies to develop computer games. Then work on a large product for developers (TogetherSoft / Borland). During my career my interests shifted to the mobile platforms, and currently I work in this area more than 13 years.
I worked at Vivendi, TogetherSoft, Borland, LG Electronics, TWP, Rhomobile, Motorola Solutions, Zebra Technologies.