Improving quality and efficiency of REST API development and maintenance based on "quick" API prototypes
October 20, 10:15
Room II
This presentation describes practices and approaches for improving efficiency of REST API development and maintenance for scaled enterprise solutions. Proposed approaches are developed and used for building a next generation modelling platform sdCloud and allow well synchronization of distributed engineering team.
In most cases when platform-oriented solution is developed, especially if it is a cloud-based solution, REST API became a very important contract between engineers who are working on a platform itself and wide range of client-like development activities which include but not limited to Web-UI development, mobile applications, integration API test and third-party teams doing an "early integration" with other products and systems. In such situation, synchronization and consistent API understanding became a critical aspect for the whole project success.
Target audience of this presentation are engineers, involved in development of high-scale enterprise solutions, both, at the engineering and QA ends.
Required knowledge level – average
Ivan Perl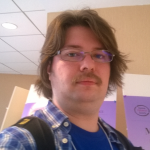 Architect, sdCloud project
PhD in Computer Science. For more than ten years has been working in software development industry in Motorola and later in Oracle. Recent four years of engineering career were dedicated to design and development of high-scale enterprise solutions related to the Internet of Things (IoT). For about two years leading sdCloud project, related to development of cloud-based efficient modelling platform for System Dynamics modelling.
Graduated Saint-Petersburg University of Fine Mechanics and Optics, now known as ITMO University (2009 Master degree, 2012 – PhD). Focusing on research in applied mathematics and mathematic modelling. Key research projects topics are high-efficient remote Earth sensing (RES) and efficient cloud-based system dynamics modelling (sdCloud project).