Knowledge Management in Kaspersky Lab
October 20, 14:45
Room IV
This presentation examines the process of creating and developing a knowledge management system for a large company with offices all over the world. It explores the difficulties that a knowledge management specialist might encounter when creating such a system, as well as the measures that have been taken at Kaspersky Lab to overcome them. It also addresses the question of how to evaluate the usefulness and effectiveness of this knowledge management system in assisting the company to reach its goals.
Rodion Nagornov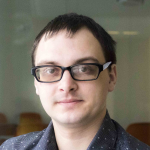 Training and Certification Group Manager, Kaspersky Lab
Rodion Nagornov graduated from Bauman Moscow State Technical University with the specialization "Computer Aided Design". He has been working at Kaspersky Lab since 2011, and in corporate education since 2013. During this time, he has played an instrumental role in the creation of an internal corporate knowledge base for the company's various products and technologies. Rodion has also helped develop a training and certification system to help employees deepen their knowledge of the company's products. Since spring 2016, he has spoken at various conferences and events dedicated to e-learning and corporate knowledge management.