Load testing based on Selenium tests (and not only)
October 21, 10:30
Room IV
In this report I'll talk about experience of building a system for execution load tests based on existing functional tests for web-applications. I'm going to tell how do we use Jenkins for that and what are the issues which we got on this way.
Vladimir Trubnikov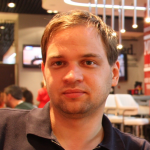 Principal Software Engineer, Dell EMC
7+ years of work in QA which includes 3+ years in DELLEMC. Specialized in automated tests development and DevOps tasks related to QA needs.