Power overwhelming with JDI 2.0 or UI automation with ease
October 21, 15:50
Room IV
Progress could not be stopped. The most powerful framework for UI automation becomes more powerful. The latest news will be announced by author on SECR. Don't miss.
Roman Iovlev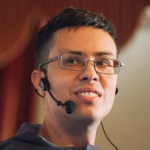 Chief QA Automation Engineer, EPAM Systems
Hi, my name is Roman and I work in Epam as Chief QA Automation in EPAM. I'd like to participates in different conferences in Russia and Europe like: Selenium Camp, SQA Days, Agile Days, Hiesnbug, IT Week, IT Subbotnik, EuroStar Conference etc. Also I developer list of opensource projects related to automation testing like VIQA and JDI. I want to make world around me better and help colleagues in their projects do testing with pleasure: faster, cheaper, and with higher quality.