Project team against design thinking. Why?
October 21, 13:30
Room III
Imagine that you have caught the idea of design thinking after trainings, books or any report.
You decided to take the first step and try it with your team.
What are the 5 reasons prevent you to do it and how you can prepare for this?
Ekaterina Gert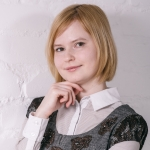 KROK
Ведущий аналитик