Virtual reality – laws from the reality
October 21, 10:50
Room III
Internet created a completely new information space once and initially it was a territory of freedom from the law. Virtual reality creates a new more complex information space, now the legal field is better prepared for the virtual reality – I'm considering the question of which standards of the world of things and the world of the Internet are relevant to the virtual world. Not always developers of the virtual reality products realize that the law of the real world can be applied to the spaces created by them. In particular, I cover issues of the ownership of virtual objects, intellectual rights, the emergence of contractual and non-contractual obligations and the protection of information and privacy. To make the presentation more comprehensible, I will illustrate my key statements with relevant examples from Russian or foreign business practice.
Georgy Pchelintsev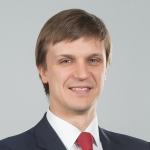 Partner, Dentons
Georgy Pchelintsev is a partner in Dentons' Russian IP, IT and Telecommunications Practice. He specializes in Russian corporate and IP/IT law and has broad experience advising on mergers & acquisitions and the establishment of joint ventures in the Russian Federation. Georgy also works on transactions involving the creation of intellectual property and the disposal of IP rights and advises on personal data protection and defences against unfair competition.
Georgy's work includes the structuring of joint venture projects with Russian companies; the organisation of international holdings; conducting due diligence investigations and acquisitions of Russian enterprises; negotiating the purchase and disposal of IT assets; anti-monopoly and securities regulation issues and various other projects related to general corporate, commercial and IP/IT matters.