We are so different, but we are… working together
October 20, 17:25
Room IV
In my report I will talk about cross-cultural communication in IT.
I will acquaint listeners with useful models in this field (i.e. G.Hofstede classification and others). I will show examples of difficulties one can encounter if have a customer, contractor or partner from another country. Also I will share my recommendations what can be done to establish effective communications in such cases.
Nadia Tarasiuk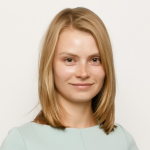 Head of QA and BA department, R-Style Lab
11 years in IT.
Business analyst, trainer, manager.
Took part in a variety of projects: large and small, in custom development and in the development of their own products, worked with local and distributed teams.
Negotiated and interacted with contractors, customers, and colleagues from different countries: USA, England, Japan, Nigeria, Kazakhstan and many others.