AI for Software Development, Testing etc. AI & Big Data
Related proposals
AI and machine learning have reached a critical tipping point and will increasingly augment and extend virtually every technology enabled service, thing or application. Creating intelligent systems that learn, adapt and potentially act autonomously rather than simply execute predefined instructions is primary battleground for technology vendors through at least 2020.
Topic Supervisor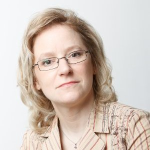 Jennifer Trelewicz
Director of Risk and Market Data, Deutsche Bank TechCentre
Jennifer Trelewicz is the Director of Risk and Market Data in Deutsche Bank TechCentre, LtD. Previously she held the roles of Head of the Expert Councils in the Skolkovo Foundation, Deputy CTO of social products in Mail.Ru, CTO of Google-Russia, and Director of the IBM Systems and Technology Laboratory in Moscow. Jennifer actively participates in professional activities, holding the post of President of the IEEE Technology and Engineering Management Society. She received her Doctor's degree in Signal Processing from Arizona State University, as well as a Master's degree in Mathematical Analysis. Jennifer has a number of publications in international refereed journals and conference proceedings, as well as 28 granted patents.